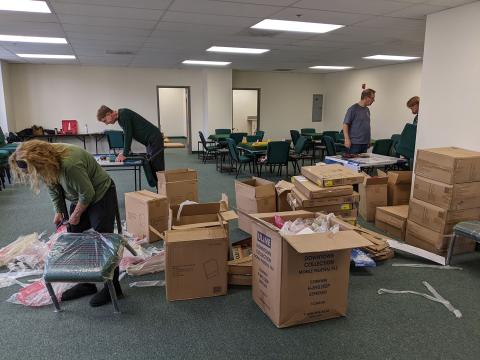 We had a great turnout for the work party. Many thanks to Barbara Leider, Yvonne Schimmel, Liza Billington, Cory Brendel, Lisa Walker, Cardon Walker, Susan Kane, and Jon Fuhrman!
All of the chairs are built. All but eight of the end tables are built (32 of 40). I built shelving for the kitchen, and Cory and Cardon helped me mount the 50-inch monitor for results and game information.
I loaded up the minivan twice to haul cardboard, plastic, and styrofoam to the center's recycling bins.
Our music playlist included Grateful Dead, Amy Winehouse, John Coltrane, Brahms Serenades, and Beatles Sgt. Peppers.
Enjoy the pictures below! The top picture is work in progress. Here's how things looked at the end of the day: